Magic of the fresh summer herbals & a few delicious DYI herb recipes!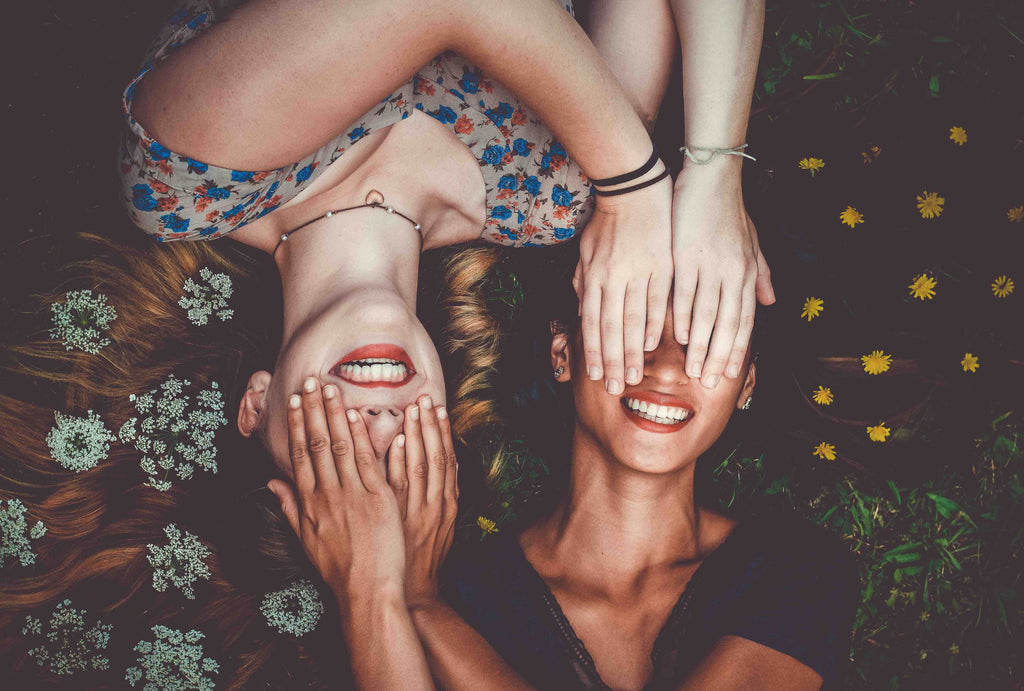 Here we are again, in the midst of the most fertile, wild, generous and abundant summer season, lucky to be spoiled by so many vivid colors, aromas and tastes of Nature and the Earth! So let's take a moment to relax, soak in this vibrant magic and celebrate!
There's nothing like the vibrance of fresh herbal flavors to nurture the body and enliven the spirit! Whether the plants are coming from your own garden or a neighborhood farmer's market - why not try some of these very simple recipes to get the magic flowing?
HERBAL/FLOWER WATERS
The quickest and simplest way to experience delicious herbal flavors and receive the healing energetics of plants is to make some refreshing herbal/flower water!
Pick a few branches of your favorite fresh herbs such as rosemary, lavender, lemon balm, catnip, tulsi, lemon verbena, mint or any other aromatic plant you love. Grab a transparent water jug or a large Mason jar and put a few herb branches inside the jar. Cut up a few slices of lemon or lime, add them to your herbs, and fill the jar with spring water. Let the herbs infuse for 15-20 minutes and serve! Enjoy this special, aromatic, great-looking and super-charged herbal water at room temperature, or throw in some ice cubes, or chill it in the fridge if desired. This gorgeous, delicious and healing drink can be served to your friend and family all summer long. It is refreshing, fun and full of herbal goodness!
Kids love making and drinking herbal/flower waters, and it's a great way to keep them hydrated through the summer season. Rosemary/lemon (for energy) and lavender/catnip (for calm) are our home favorites!
FRESH HERB COLD WATER INFUSIONS
Fresh garden or market herbs can be used to make delicious cold water infusions. It is the same principle as the herb/flower waters but we infuse the plants over a longer period of time (preferably overnight). You can choose one plant or a combination of plants, and fill the entire jar with the plant material (be as generous as you can!) before pouring in the spring water. Infuse overnight, strain in the morning and enjoy!

Mint, tulsi, rosemary, lemon balm, basil, chamomile, lavender, lemon verbena are all great choices. Raspberry and black current leaves can serve as a beautiful addition to your infusions - nutritive and full of vitamins. Black current leaves are highly aromatic and add amazing flavor to any infusion! Mint and chamomile are a great combo, and ginger works well with any lemony flavor plants like lemon balm or lemon catnip. Both of these mixes will boost your energy and work on your digestion!

Lavender, catnip and rose petals has been my favorite calming infusion this summer. It's a soothing, luxurious, meditative and nurturing experience for the body and the soul!
Have fun improvising and creating your favorite herbal combinations!
And if you are really pressed for time, we can make it real simple: fill up your water bottle with healthy water, put a few fresh herb branches inside, and enjoy your special water super charged with plant magic!!!

HERBAL OILS
Another fun way to capture the magic is to make some delicious, aromatic infused herbal oils! They can be used as massage/body oils or as cooking oils. 
If you would like to make a relaxing and healing massage/body oil you consider lavender, rose petals, immortelle, calendula, arnica, chamomile, or St. John's Wort flowers, just to name a few familiar examples. You can use MCT fractionated coconut oil or olive oil as a base. These two are the most popular carrier oils as they are stable and have a longer shelf life.
And if you prefer a delicious aromatic cooking oil then think of plants such as rosemary, sage, thyme, oregano and other culinary herbs or spices. Infuse them in olive oil and enjoy in salad dressings, sprinkled over steamed veggies or any other way you like!
Whichever type of oil you are making,  as we are infusing fresh herbs it's best to wilt them on a kitchen towel for 12 hours or so to get rid of the extra moisture. Once the plants are ready, prepare a clean, dry 1-quart Mason jar and pack it with the plant material. Then pour in the coconut or olive oil. Make sure that the oil covers the plants fully, and leave at least 1 inch of open space above your herbs to fill it with oil, to avoid mold.
Cap the jar tightly. Place it on a sunny, warm windowsill and shake once a day. You can strain the herbs 2-3 weeks later using a fine mesh strainer or a cheese cloth. Squeeze of all of the plant material to get as much oil out as possible. Every drop is precious and filled with herbal goodness! Pour the oil into clean glass bottles and label them. It's best to store your oils in a dark cool space so they can last the longest, typically for up to one year. For body/massage oils a few drops of vitamin E oil can be added for more stability and skin benefits.
My absolutely favorite summer oil to make is St. John's Wort with lavender! I usually make it with with 2/3 of St. John's flowers by volume (pressed down) and 1/3 lavender flowers. If you don't have fresh lavender flowers you can simply add a few drops of lavender essential oil to your St. John's Wort oil, once ready, to activate it. 
You will love watching your olive oil change color to red as the days pass by:
This nurturing oil is wonderful to use on sore muscles, aching joints, bruises, sunburns and areas with nerve pain, dry and itchy skin, scrapes and scratches. It makes an amazing medicinal massage oil as well! It's best not to use it directly before playing in the sun (as it is UV sensitizing) but it's a perfect after-sun oil! It It will re-hydrate and restore your skin, turn it from red (if that is the case) into a nice brown, and make your tan settle in and last longer.
Another one of my favorites is a mix of immortelle, lavender and roses! You can make it with equal parts of each flower, or according to your inspiration and availability of plants. It is very healing and beautifying for the skin, and calming and grounding for the spirit!